Following the recent proposal by the Management of Transmission Company of Nigeria (TCN) to sell four disused helicopters in its fleet, the Senate Committee on Power, alongside its counterpart in the House of Representatives have on Saturday, 19th October 2019, inspected the helicopters parked at the Domestic Wing of the Murtala Mohammed Airport in Lagos, opposite the Bristow hanger, former PAN African Airline.
The team which was led by Senator Yusuf Yusuf representing Taraba Central, said the committee's mission was to ascertain the status of the four helicopters with registration number 5N-ASK, 5N-ASJ, 5N-BCJ and 5N-EPA.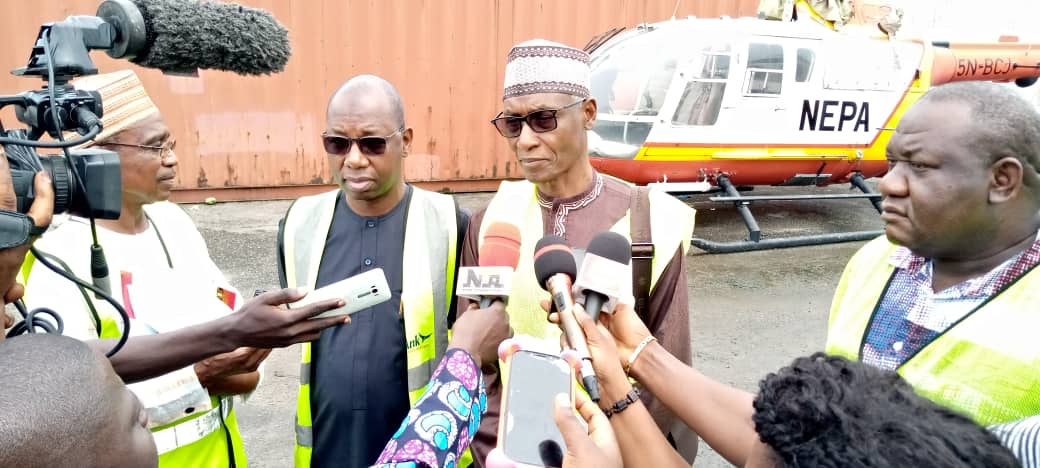 He stated that from the committee's findings; the first two are serviceable while the remaining two cannot be rehabilitated. After the inspection of the Helicopters, the committee said now that they have physically inspected the helicopters, there was need to meet again with TCN to ask questions and obtain answers to determine the next steps.
TCN transmission network consist of over 12000KM and 15000 of 330kV and 132kV respectively, hence the need for a good helicopter with modern technological accessories for transmission lines maintenance and monitoring which is very key to avoid downtime.
On the issue of maintaining new helicopters for TCN, the Senator said "If we are going to have new ones, I'm sure they will be very useful and of course modern. I also think that with the commercialization of TCN, they should be able to put it to commercial use"
On his part, the General Manager (Research and Development) TCN Headquarters, Abuja, Dr. Inugonum Thomas, said that the estimated worth of the four helicopters from the evaluation carried by the consultant, messrs Flyserve Ltd, is $ 720, 000.00.
Also speaking, the Regional Transmission Manager, Lagos Region, Engr. Adebola Lamina, emphasized the importance of having functional helicopters for surveillance as it would enable the prompt identification and fixing of faults on transmission lines across the country, as against the manual method being used now.
He explained that before now, the four helicopters were used by the defunct NEPA to check faults in lines, especially in dangerous areas and thick forests that cannot be easily accessed by staff and that the helicopters made the job faster and easier.
The four helicopters were inherited by TCN after the privatization exercise in the Power Sector.
By Tosin Olasehinde