TThe Management of Transmission Company of Nigeria (TCN) has again energized another brand new 40MVA 132/33kV mobile power transformer installed in its Etsako Transmission Substation on the 9th of January, 2020.
The 40MVA 132/33kV mobile transformer was completed through collaboration between TCN and Edo State Government. Under the collaboration, Edo State Government built the control room while TCN's in-house engineers installed and commissioned the substation. By this installation the capacity of Grid has been increased by 32MW. The new substation also provides relief to existing Irrua Substation in the state, as some areas previously served by Irrua now take supply from the new Etsako Substation.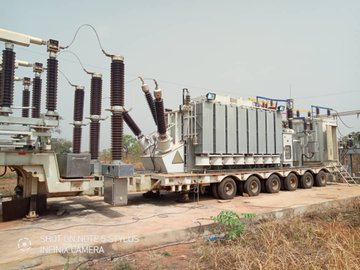 With the new 40MVA Etsako substation TCN now has increased transformer capability which translates to increased bulk power transmission within the Benin Distribution Company's franchise area. The substation therefore has available, more bulk electricity for Benin Electricity Distribution Company (BEDC) to take to its customers in Auchi, Etsako, Igbeshi and environs.
TCN pledges to continue to expand and upgrade its capacity through implementation of Transmission Rehabilitation and Expansion Program. Management of TCN wish to use this opportunity to thank the Governor of Edo State His Excellency, Godwin Obaseki for the support that led to the successful collaboration.
Ndidi Mbah
General Manager (Public Affairs)