The Jigawa State Government has signed a Memorandum of understanding (MoU) with the Transmission Company of Nigeria (TCN) on the construction of two 132kV Double Circuit (DC)
The State Governor, Mr. Mohammed Abubakar Baduru signed the Jigawa State part of the agreement when he paid a courtesy call on TCN at its Corporate Headquarters in Abuja on Friday, 17th January 2020.
During the signing ceremony, Governor Baduru commended TCN for her effort in rejuvenating Nigeria's economy through the provision of bulk power supply. He noted that the construction of the two 132kV transmission lines, as well as the completion of the Gagarawa substation which had been abandoned for almost 12years, will not only attract investors, but also help boost economic activities in the State.
He assured TCN of his commitment to providing necessary support that would ensure smooth and successful completion of power projects in the state. In his words, "We want power, and we believe to participate in getting the Right of Way, is a small contribution to the economic development of Jigawa State because with stable power, our economy will improve". Speaking earlier, the Managing Director and Chief Executive Officer of TCN, Mr. U. G Mohammed, appreciated the governor for collaborating with TCN to ensure that critical transmission projects in the state are completed. He stated that the agreement signed was a collaboration between TCN and the governments of Jigawa, Bauchi, Katsina and Kano States that would enable TCN build the 132kV Daura-Kazauri-Danbata-Kpabara transmission line and the 132kV transmission line from Asare-Misau-Gwaram- Birnin-Kudu to Dutse. Mr Mohammed disclosed that TCN engineers were currently in the process of completing the Gagarawa Substation project after taking over the project from contractors who failed to complete it within the stipulated time, adding that TCN has concluded modalities for reconductoring the transmission line supplying Gagarawa Substation. He informed the governor that TCN was executing several projects in the North East to improve bulk power supply within the axis. The projects includes the Eastern Backbone, one of the priority projects of WAPP, which seeks to build a 330kV transmission line from Calabar – Ikom – Ogoja – Kashimbilla – Mambilla – Yola – Hong – Biu – Damaturu – Potiskum – Azare – Dutse and Kano, adding that the project when completed will include 3 new 330kV substations which will be connected to the existing 132/33kV substation in Dutse, Jigawa State and that the substation project would boost electricity voltage profile and consequently, economic activities within the area.
MD
I want to welcome His Excellency, the executive governor of Jigawa State and also thank him for all the collaborations we have been having with him. With his support we have been able to restart the Jigawa project that is the Gagarawa project, he single-handedly did the road for us. We extracted commitment from the contractor that he would complete it before the end of last year, unfortunately he failed. When we discovered he failed, at the beginning of this year we took a decision to send our Engineers there. Two days ago I received a photograph message of the work that is going on there, and I think in the next two weeks the work would be completed fully. We have also received an investor who came to us saying that they want to build a rice mill where they would require 20 MW of electricity. They also said that they want to site the project in Abuja. For us it doesn't make any sense because we have a brand new substation in Jigawa state where we have energy in abundance and it's easy to get land in that place. And there is a lot of factories there because a lot of farmers are cultivating rice. So we are in discussion with those investors and when we finalize Your Excellency, they will go to Jigawa we would formally send them to you. If you know that line that we have that is supplying Gagarawa, we have concluded the process to reconductor the line and increase the capacity of that line by 21/2 times. So we are happy to receive you sir, and we also want to express our gratitude because you not only agreed to work with us but also agreed to collaborate and work with other states that are adjacent to Jigawa, so we would achieve a common objective. And we have received feedbacks from all those states that actually you have spoken with them, and for that, we are very grateful. So this agreement we have just signed is actually a collaboration between Jigawa, Kano and Katsina states on one hand, which is, one agreement with TCN which would enable us put a 132KV line from Daura to Kazauri to Danbata to Kpabara. And it will also help us to put another 132kv line on the Bauchi side from Asare-Misau-Gwaram- BirninKudu – Dutse and a T-off from gwaram to Nengi that means we are going to put a 132kv substation in Mashi, Kazawure, in Pkabura and also in Danbata. We will also put another 132kv substation in Misau, Gwaram, Birnin-Kudu and Nengi. If we are able to do that, the economy of those regions especially since this are places that have significant scarcity of electricity, the economy of these places will significantly improve and that is what we intend to do to significantly expand the grid. So, his collaboration with state government, where they will help us to provide right of way and TCN will put the infrastructure is the best thing that has done when we came to TCN. We did the same thing in Enugu State where the state government has been struggling for over 6yrs to establish Right of Way between New Heaven and Nssuka, and it was made possible 3months after we collaborated with the State government. We are currently doing the same thing between Nnewi and Nsukka and Onitsha. The Easter Backbone project which is an Ecowas project, we are going to put A NEW 330kv substation in Dutse which will be connected to the 132/33kv substation in Dutse WHICH will significantly change the voltage profile within the area. So, your Excellency, you are welcome to TCN. The rest governors are likely going to be around next week, they have all received and reviewed the draft copy.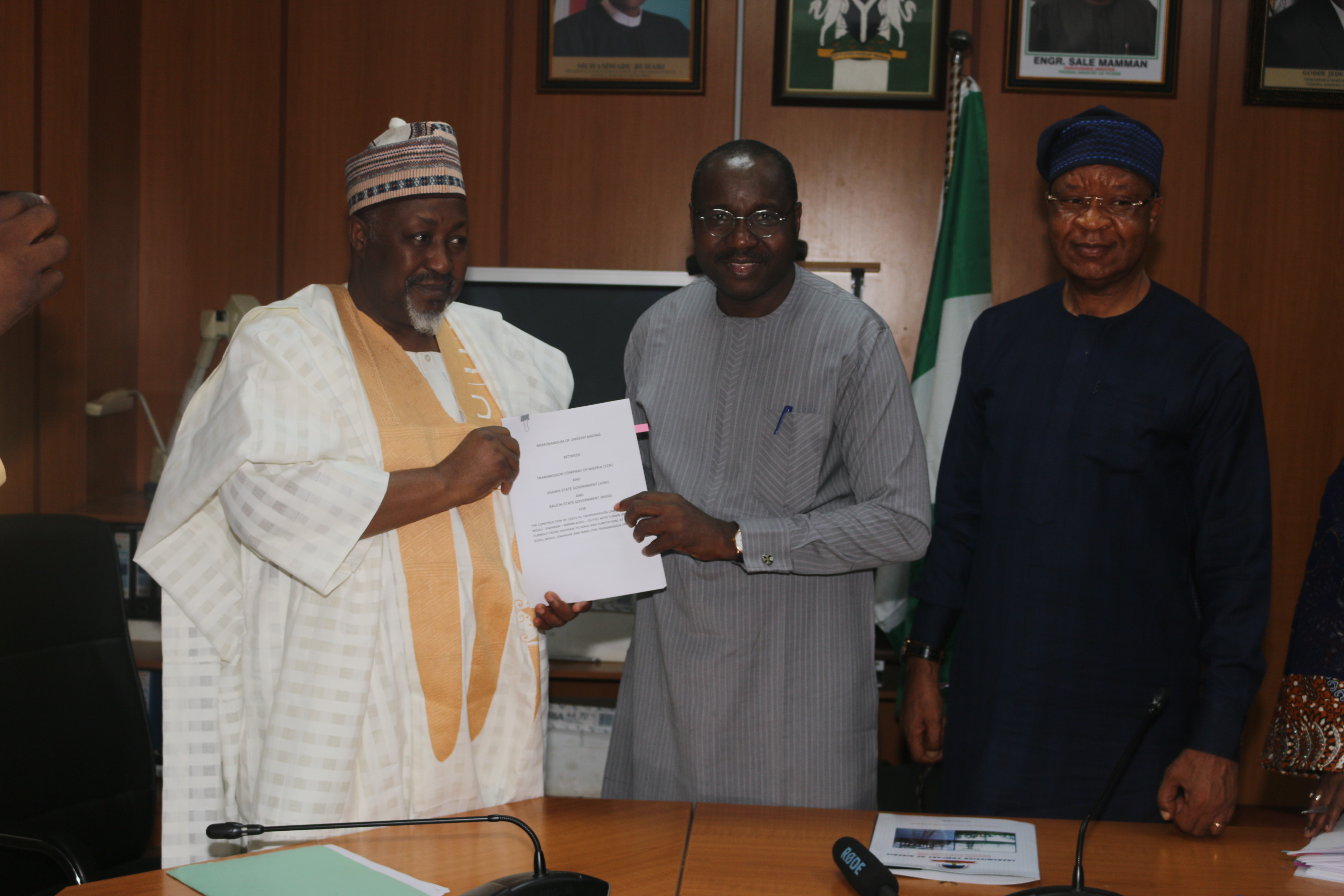 GOVERNOR
I thank you most sincerely for the effort you are putting in rejuvenating the economy of Nigeria because power means a lot in Economic development. The Gagarawa project is an example, its been there for almost 12 years and it is only when you started talking about collaboration you see the project moving this fast and I believe in the next two, three weeks, we will have it completed and economic activities will flourish around the area. Right now, they are already two companies and a universities constructed around that area and more companies are coming, of course, we will provide light and all the necessary ..issues they want us to help them within establishing the industry. it's a wise decision for them to come to Jigawa and now that you are connecting power, it is super. So, I believe, this project that we have just signed the agreement for the right of way, am sure myself and the other three governors, Katsina, Kano and Bauchi, will be very happy to support TCN in the process of getting the right of way. We want power, and we believe to participate in getting the right of way, is just small contribution to the economic development of this country because with stable power, our economy will improve. So, we thank you very much for this effort and I want to confirm to you that we will do all it takes to make sure that this project is successful and we will give you all the necessary support that you need. By signing this agreement, am sure my colleagues will sign their own portion so that we will start the project as quickly as possible.