TCN has again completed the installation and commissioning into service, three power transformers; a 30MVA, 45MVA and 45/60MVA transformers in Egbin, Apapa and Gusau Transmission Substations respectively. This brings to eight the number of power transformers commissioned this year.
In Egbin Substation, the additional 30MVA power transformer and one 33kV feeder increased the substation capacity from 300MVA at 330kV level alone, with an additional 30MVA at 132kV level. The installation was carried out wholly by TCN Engineers.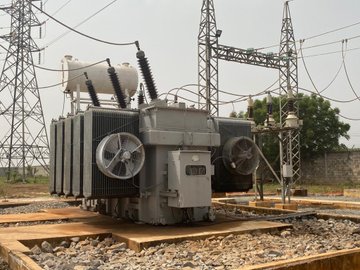 Following the planned rehabilitation of the Apapa Gas Insulated Substation (GIS) in Lagos, TCN engineers installed and energized a 45MVA 132/33kV power transformer in the substation. The transformer would provide alternative source of power supply to Ikeja Disco for consumers in Apapa and environs. In Gusau, Zamfara State, TCN equally upgraded the substation's capacity from 60MVA to 120MVA with the installation of 60MVA 132/33kV power transformer. The new transformer was equally installed by TCN engineers and has increased bulk supply to Kaduna Electricity Distribution Company for consumers supplied from Gusau Substation.
While the transformers in Egbin and Gusau Transmission Substations were commissioned on the 23rd of January, the Apapa transformer was commissioned on the 24th of January 2020.
TCN is diligently implementing the rehabilitation and expansion of the nation's grid with the goal of ensuring a more robust and efficient transmission network. The Company is determined to ensure that all on-going transmission projects across the country under its Transmission Rehabilitation and Expansion Programme (TREP) are completed on time.