The Management of Transmission Company of Nigeria (TCN) has commended the United Kingdom Nigeria Infrastructure Advisory Facility (UKNIAF) for assisting in capacity building of TCN staff especially at its regional offices nationwide.
The Managing Director and Chief Executive Officer of TCN, Mr. Usman Gur Mohammed, gave the commendation when the UKNIAF team visited TCN management recently, at its corporate headquarters, Abuja.
Mr. Mohammed expressed appreciation at the effort of the UKNIAF to assist in capacity development, saying that a well executed capacity development plan would boost staff ability to actively participate in accomplishing the ongoing Transmission Rehabilitation and Expansion Programme (TREP), noting that TCN will continue to maintain good working relationship with UKNIAF.
According to him, when TCN wanted to decentralize the Project Management to make it more efficient as well as empower the regional offices to participate actively in project execution, there were opposition even though central supervision of projects was not effective. Management however went ahead to decentralize project management for proper oversight. UKNIAF on its part promptly agreed to partner with TCN in ensuring that TCN's capacity growth plan becomes a reality especially for staff at the regional offices for project implementation.
Mr. Mohammed recalled that, since 2017, when the present management took over, TCN has undergone some level of transformation which had moved it away from being the weakest in the Nigerian electricity value chain to becoming one of the strongest in the sector. He noted that TCN has empowered its engineers to take up responsibilities they were not doing before, such as the installation of power transformers at the substations, reconductoring Double Circuit (DC) lines, live line repairs, building of entire substation such as the new Ilashe Substation in Lagos State among others.
According to Mr Mohammed, TCN has installed over 68 power transformers in its network between 2017 to date. Between January and February this year alone, TCN engineers have installed 7No power transformers, one of which was a 300MVA installed in Asaba, Delta State, he said.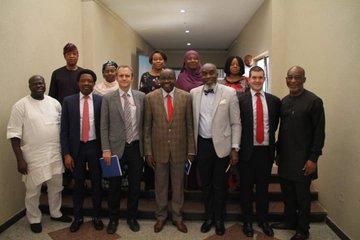 The MD/CEO TCN, informed the visitors of TCN's desire to put in place a functional SCADA for grid stability and reliability before the eventual splitting of the company into Transmission Service Provider (TSP) and Independent System Operations. "We are working to make sure the system works because TSP and ISO must be separated and the most important separating factor is the SCADA, we are therefore treating the procurement of efficient SCADA as top priority", he said.
In his remarks, the Project Director, UKNIAF, Mr. Thomas assured TCN management of their support and cooperation in helping TCN achieve its desired objectives. According to him, "We are here formally to let TCN team know that UKNIAF is fully determined and willing to work and cooperate with TCN in the transformation and expansion of her operational processes."