The Minister of Power, Engr. Sale Mamman has commissioned a newly installed 150MVA 132/33kV power transformer at Kumbotso Transmission Substation in Kano, with assurance that the Federal Government was working round the clock to improve the electricity voltage and deliver uninterrupted power supply to Nigerians across the country.
Engr. Mamman, who made this known while performing the official commissioning of the transformer, on Thursday, 12th November 2020, in Kumbotso, maintained that the 150MVA power transformer would enhance power supply in Kano, Jigawa and environs.
According to him, the Kumbotso Substation was among the best transmission substations in the country, and that the increasing demand and expansion of customer base in the Kano metropolis, necessitated the installation of a new 150MVA 330/132kV capacity transformer to reinforce bulk power dispatch requirement in order to accommodate the increased power distribution demand.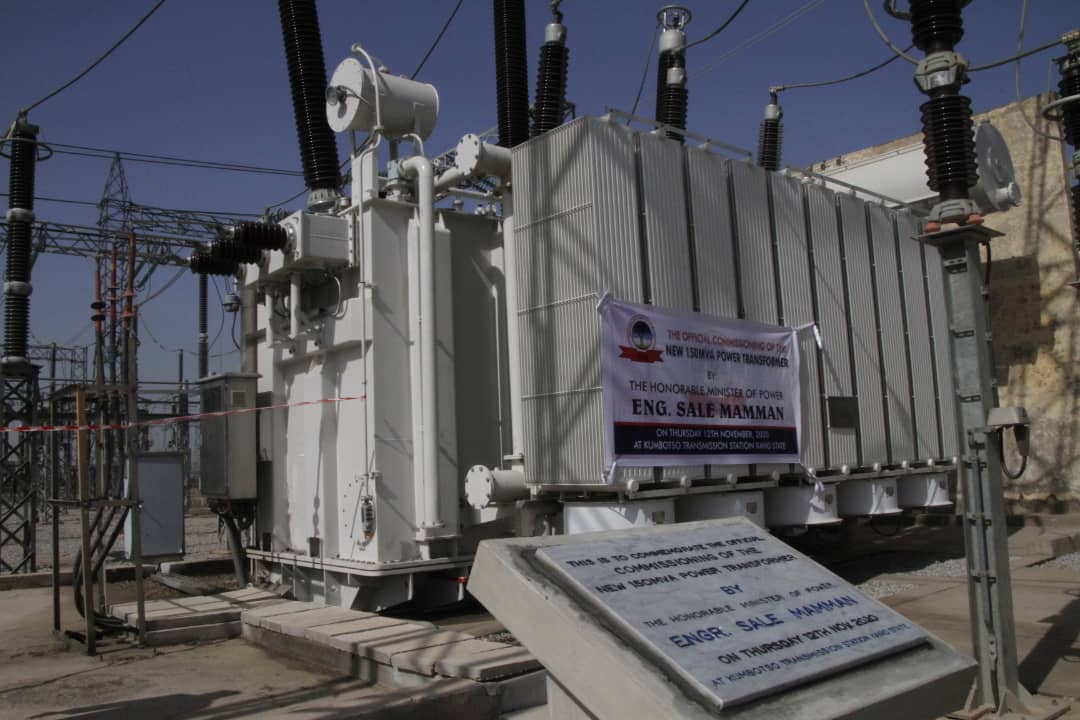 He maintained that the Federal Government was already achieving a robust improvement in electricity generation, transmission, and distribution through its different intervention programs. "We believe that the people of Kano and environs would witness improved and steady power supply and called on the Transmission Company of Nigeria to expedite action on delivering ongoing projects under the Transmission Rehabilitation and Expansion program in different parts of the country," he added.
In his remarks, Kano State Governor Abdullahi Umar Ganduje said the installation of the new power transformer was timely and would boost commercial activities in the state.
Ganduje who was represented by his Commissioner for Works and Transportation, Alhaji Garba Unguwar Rimi, commended the foresight of the Federal Government in investing in the power sector geared towards moving the nation forward.
Speaking at the event, the Acting-Managing Director of Transmission Company of Nigeria, Abdul-Azeez Suleiman disclosed that the nation's critical power infrastructure is receiving the needed attention from the Power Ministry with the active support of President Muhammadu Buhari.
The Kumbotso Transmission Substation had four number 150MVA transformers feeding, Kano Jigawa, Katsina, parts of Bauchi and Yobe state as well as international line to Niger republic. The installation of the brand new 150MVA 330/132/33kV power transformer by the TCN's in house engineers will increase the substation's capacity by an additional 120MW.